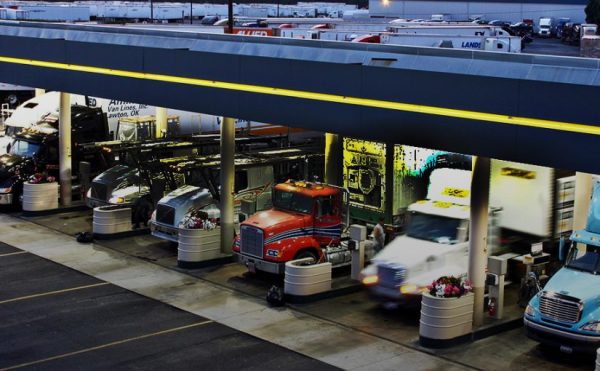 By Chris Perry | 2/15/2017
Do you remember going on road trips as a kid? Is there anything more nostalgic than staring out the window at endless miles of highway while your siblings poke you with elbows and the never-ending chant of "Are we there yet!" rings out through the station wagon? Of course, there were good things to remember as well… beyond the jokes and junk food, there was the DESTINATION! Two destinations stand out in my memories:
First being the Oregon Coast with its beautiful scenery, amazing buttery clam chowder, and who could forget the freezing cold Pacific Ocean (polar bear plunge anybody?)
Second memory that comes to mind is the California Redwood Forest which literally stretches on for hundreds of miles and just so happens to be the filming site for Planet Endor in the Return of the Jedi. It truly is an out of this world experience… although we never could find an Ewok…
Well it just so happens that those memories of endless highways happen to be the daily worksite for thousands of American Truck drivers. And that nagging "Are we there yet" can sound all too familiar on a daily basis for these hard-working men and women. In honor of their dedication and fortitude, each week we'll be exploring some of the "Are we there yet" destinations for the American Truck driver who seeks more than just a quick refuel. We're talking world class meals, music festivals, movie theatres, top quality dental care inside of a truck museum (we're not kidding, that's a thing) just to name a few! So strap on in, buckle up and enjoy our road trip across the Top Trucker Pit Stops in America!
Jubitz Travel Center, Portland Oregon
It's hard not to start this series at the very top (at least according to FOX Travel Channel) who voted Jubitz Travel Center in Portland Oregon as the "Worlds Classiest Truck Stop". Now we might be Portland natives, but we're not being bias here, this place truly is a must see for Truckers and travelers alike. The Jubitz Marketplace effectively brings the concept of a bunch of 'Portlandly' restaurants, events and movies into one place — literally providing something for everybody! We'll go ahead and break them out one by one for you to keep things organized!
Dinning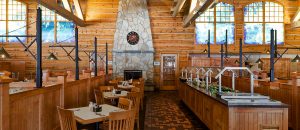 Cascade Grill – open 24/7 and offering what they call "one of Portland's best home-style restaurants". That's classic American fair so you know exactly what you're getting. If you've got little ones, they even offer one free kids meal per adult entre!
Moe's Deli – Fresh quick sandwiches. They bake their own bread and offer generous amounts of meats, cheeses and fresh veggies. Get a cold beer with your sub and step into Club 307 next door to try your luck at the Oregon Video Lottery Games. Moe's also offers handcrafted chocolates, cookies, homemade ice cream, popcorn, candy and soda.
The Jake Break Deli at the Travel Center offers delicious meals like a teriyaki bowl, meatballs with mashed potatoes, salads, and burritos. You can grab it to go but they do offer a comfortable driver's lounge upstairs in the travel center if you just need a nice break from it all.
If you're in a hurry and just need a snack or some caffeine, you can grab a quick coffee and convenient store items at the Jubitz Market, located right across from Moe's Deli.
Entertainment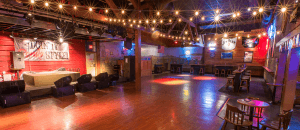 In regards to entertainment, they've definitely got you covered. Drinks, live music and even line dancing will provide for some much needed fun and laughs at the Ponderosa Lounge which we highly recommend. They even have a music festival coming up this March which you'll probably find me attending if you're in the area!
If you're in the mood to just sit back and relax, the Jubitz Cinema provides $5 movies which is great if you're on a budget and just need some nice air conditioning on a hot day!
Overnight Hotel Stay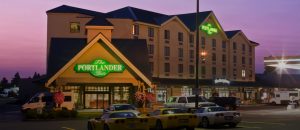 The lodge themed Portlander Inn Hotel offers a nice getaway if you want to leave the truck for the night. All 100 guest rooms offer refrigerators, microwave ovens, coffee pots, free wireless internet, direct-dial phones with voicemail and televisions with complimentary HBO and Showtime. They even offer rooms with jacuzzies if you really want to treat yourself!
Travel Center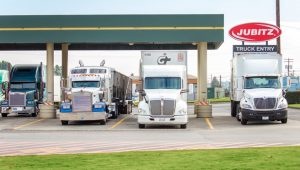 The travel center amenities are seemingly endless and offer just about anything a long-haul trucker or road tripper could need. So let me take a deep breath and see if I can cover all of them… Ready? Here we go! 300 Parking Spaces, 24-hour Convenience Store, Deli with Hot Meals, Snacks & Drinks, Clean Shower Rooms & Jacuzzi Tubs, Oversized Towels, Oregon Lottery Games, CFN & Pacific Pride Fueling Access, 9 Fuel Lanes with High-Speed Diesel Pumps, All-Lane DEF Availability, 15 Minute Parking Lanes, Truck Scale, Safety Meeting Facilities, and last but not least, a Driver Lounge with TV & Leather Lounge Chairs… phew!! That was a mouthful!
Service Center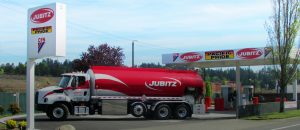 Driving across the country can put some serious wear and tear on the truck. If you need any sort of tune up or maintenance, the service center has you covered. They offer Oil Change & Lube Service, DOT Inspections, Tire Sales, Mounting and Repair, Brake Service, Alignment and Alignment/Suspension Repair, Auxiliary Power Units, Major Repairs, Electronic Logging Devices, and Electrical Diagnostics. They're open six days a week and are constantly running new promotions.
A little bit of history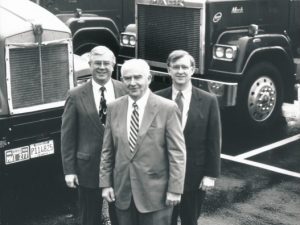 The amenities at the Jubitz Travel Center are seemingly endless but what really impressed us is their attention to detail. This is all due to the dedication of the man whose name decorates the signs around here, "Moe" Jubitz. Moe was a Yale graduate who wanted to get into the trucking industry even though he had some incredible job offers from the Boston Red Sox and New York Yankees. He quickly started his own fleet leasing company before deciding to branch out and launch the Jubitz Truck Stop in 1960. Every member of the Jubitz family pulled a shift in the early years, with sons Al Jubitz and Fred Jubitz working the first 24-hour shift on opening day. Our hats go off to this incredible family and the hard-working men and women of the trucking industry that they serve every day.
We too share the vision of serving the hard-working truckers plowing down the endless highways of our country. Our dedication focuses on providing a perfect mattress experience inside the vehicle, because after all, you're not always just a rest stop away from the Classiest Truck Stop in America! If you'd like to learn more, head on over to Truckmattress.com and we'll take good care of you.